Article 4 Directions - Removal of Permitted Development Rights
Even though your building scheme fits in with the restrictive criteria of the current Permitted Development legislation, you may still be denied this right if your property has an Article 4 Direction applied. Let us explain...
---
QUOTE: "One of the effects of living with electric information is that we live habitually in a state of information overload. There's always more than you can cope with".
---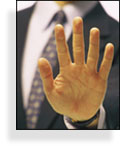 Article 4 Directions are issued by the Council in circumstances where specific control over development is required, primarily where the character of an area of acknowledged importance would be threatened by home owners installing extensions or works outside of the Planners Control (who think they always know best).
They are commonly applied to conservation areas and within sites that are very tight or cramped such as a densely populated housing estates. Such Directions are usually applied over an area rather than an individual property and are registered as a Local Land Charge.
You can always check with your Council but be prepared for them requesting a fee for this service. If you are able to visit the council in-person you can normally see a 'Duty Officer' at the Planning Department who will assist you to locate the right documents for clarification.
The effect of such a Direction is to remove Permitted Development rights, thereby necessitating a planning application to be made. This is normally stated on the original Planning Permission for your site and it will be quite obvious which Planning Condition it is in most cases.
Article 4 Directions are not issued without careful consideration, because the Council may be required to pay compensation in circumstances where you cannot obtain planning permission for development which otherwise would be treated as permitted development although this is very rare.
However, each wording of a Planning Condition relating to the removal of Permitted Development rights to the site, housing estate or individual property will be either wholly for the removal of the entire Permitted Development classifications or just part so you do need to check this thoroughly.
We have had instances where the PD rights were removed from a site but they only referred to Class A for example (extensions) which therefore still retained Class E to the site (ancillary garden buildings).
As a guide, any property built within the last 15 years that is either an infill development on a small site or within a high density housing estate will likely have all or part of the PD rights removed so you do need to check this issue thoroughly.
It should also be remembered that if a property has had previous extra planning approvals for home extensions for example which have been constructed on site then these extra planning approvals can sometimes have a planning condition attached that again removes the sites permitted development rights.
Of course, if you prepare some drawings and apply for a Certificate of Lawfulness to the Planning Department (which is recommended) this will be part of their regular checking regime.
---
Download documents and diagrams of useful
Permitted Development information

---